Pete from Body Tech is an amazing trainer... his energy is incredible which gives him the ability to motivate you to do anything.

Sheena Livingstone
Pete's a force of nature. His total positivity and enthusiasm sweep you along immediately.

Stu McDonald
If you want to see a real improvement in your strength and fitness, give Pete at Bodytech a call.

Richard Priestley
View all testimonials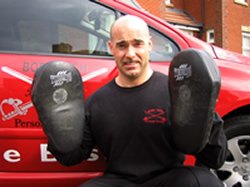 'I'll help you reach your personal goals, keep yourself in shape and feel good.'

Pete, Body Tech founder.
About Body Tech
Body Tech is run by Pete McLellan, an experienced fitness instructor. It is dedicated to providing a flexible and personal fitness training service in Edinburgh and the East of Scotland.
The training is flexible to your needs; you decide the frequency, time of day and where you prefer to work out.
Find out more about us
The latest from Pete's blog